Making A Difference
Animation
,
Art Direction
,
Consulting
,
Design
,
Digital Art
,
2007
Rethinking The High level Dimensions OF Structured Visual Thinking
Recreating the way we describe the high level aspects of our work.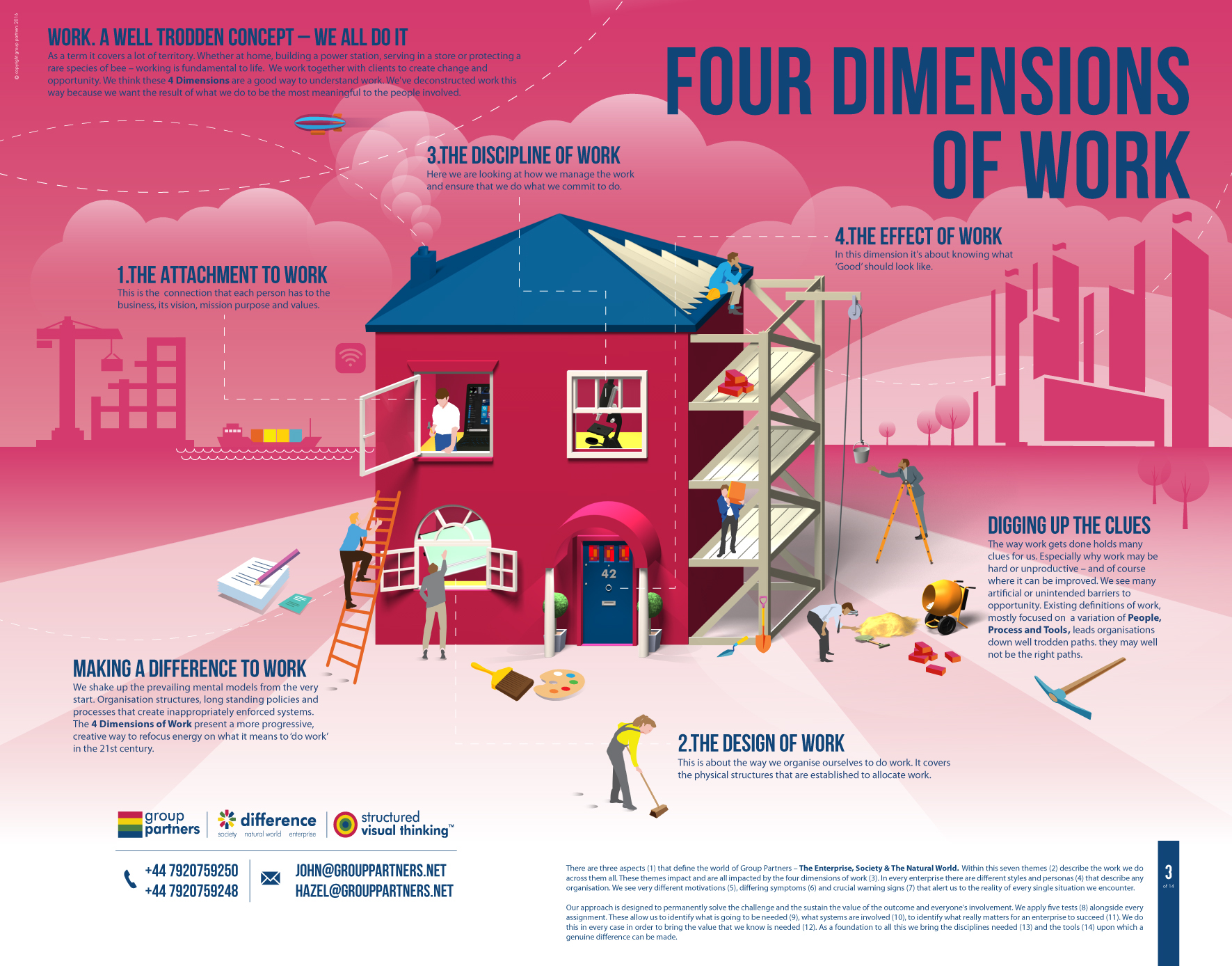 So, the other major component of our work is
Structured Visual Thinking...



Structured

because it is important to think in more disciplinedfashion. Structure organizes the complexity of every idea, everyconversation and every component of strategy or transformation. Structure helps us rank and prioritize the choices and then the decisions we have to make every day.



Visual

because whether it's words or pictures, the two primemodes of recorded communication in business, we major in the power ofall things 'visual' to convey meaning. We design, develop and createmuch more powerful symbols by crafting them together with teams usingvisual tools and techniques. These visual components are then usedeither to provoke further conversation or to translate ideas andconcepts notions or feelings into something that can be shared. Telling stories!



Thinking

because we need to solve problems and identifynew value. We are passionate about finding better ways to think.Uncovering new value through combined and more coherent thinking. We want to leverage the talent and skill in everybody we work with and we foster this through creativity, innovative techniques and our experiences.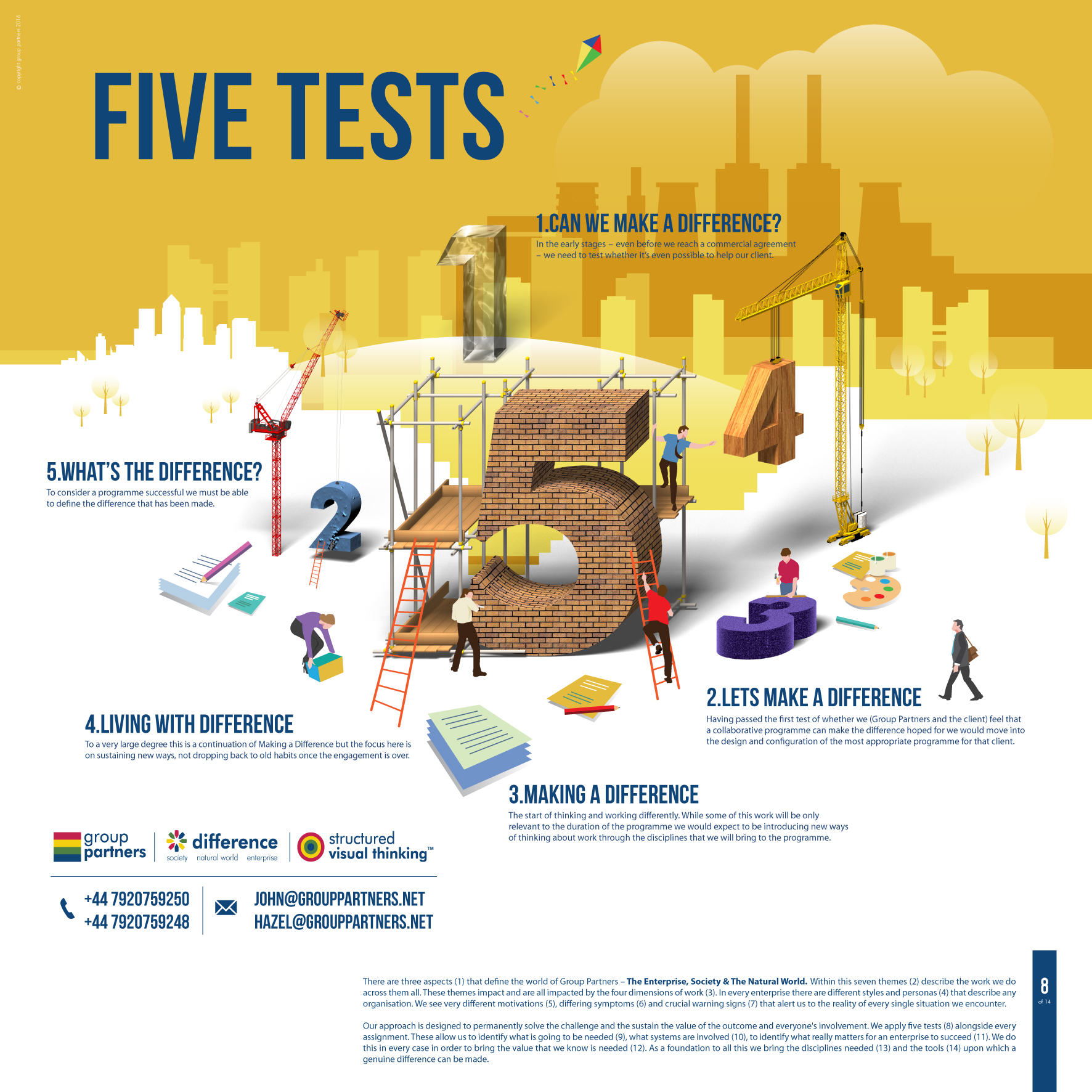 Structured Visual Thinking™ 
Structured and visual thinking is the definition we use to describe the 'physics' involved in synthesising complex and disparate content. The term describes our techniques for aggregating conversation and our use of frameworks deployed together with precisely designed tools designed to force clarity from chaotic and randominformation or knowledge. Clear Thinking Structured and Visual and Thinking creates the opportunity for clear thinking. 
The definition Structured Visual Thinking™ covers both the blending of facilitation – co-creation and the direct/live application of proprietary templates, blueprints, frameworks, grids, schemas, designs, stimulus materials, diagrams, devices, sets and frames. Structured Visual Thinking™ hassignificant value for clients in the problem definition phase, in theprioritisation of alternate choices, the clarity of ranking, increating preferential or time based decision making and planning,defining the state of current realities and describing the vision offuture states. Our approach can use both a mixture of pre-built and/orco-created structures.Structured Visual Thinking is applied throughoutthe 4 'd's of 4D™
Structured Visual Thinking™ is a unique and specific approach to Thinking. It's designed to unlock energy and value for senior people who aretackling serious questions in business. It is highly focused, designedto assist rigorous thinking and works by being highly visual. It istargeted at enhancing the understanding within the strategy, planning and improvement process. In particular it is deployed throughout the 4D™ approach.
4D™ is a deliberate interruption to traditional working practices. 4D™can be considered 'visual reasoning' of input in the pursuit ofimproved business outcomes. Unlike many forms of thinking and planning 'visual reasoning' makes dramatically improved 'sense' of the information at hand by the introduction of a visual framework.
Why it Works
Structured Visual Thinking™ combines these three ideas into a rogorous and proven method of increasing understanding and communicating ideas. The images below illustrate some of the examples of deep and thoughtful collaborationwith our clients. These end results are extensive, and manifest themselves in software, printed collateral, installations and all forms of media.(SVT™) is the overall term we use to describe the technique/procedure of understanding complexity within visuals andvisualization. What is important to us is the blend of both structured and visual thinking within the context of problem solving.
We work with teams very visually to improve the outcome; the way in which they approach the problems they face in considering how to solve problems or how to embrace opportunity. This is based onthe truth that the eye can process information in the ratio of 12:3 times faster than the ear.